Giro Ciclistico Valle D'Aosta
Published on 1st June 2015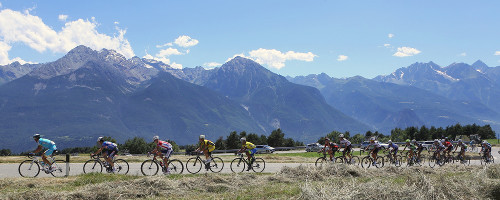 We're very excited the opening stage of this summers Giro della Valle d'Aosta will be held in Morillon! The prologue and individual time trials are being held on Bastille Day (Tuesday 14th July) and the first stage the next morning. Both stages will start from Morillon and end 2 minutes down the road from us in Les Esserts.
Inspired?
Off-road mountain biking and touring cycling are hugely popular summer activites in the Grand Massif, if you feel inspired to take to the saddle there are several hire shops in the village and routes to choose from.
Mountain Bike Trial Zone
Conveniently located near the hire shops next to Lac Bleu, get to know what you're wheely (sorry, couldn't resist) capable of and practise your off-road skills at the MBTZ. There are a range of obstacles to help you build your confidence before you take to the mountain.
Yellow vélo
The easier way to enjoy the Alps. Enjoy the climb as much as the descent and hire an electric bike from VTT et VTC électrique – Yellow vélo. The bikes are fully charged ready for a day exploring the paths and trails. Letting the motor do the hard work you can go further, faster and avoid sore legs the next day.
Bastille Day
France's national day (14th July) is always marked in Morillon with a spectacular fireworks display over Lac Bleu, live music and family fun and this year promises to be even more amazing double celebration.